Been very busy since getting back so the ride report is taking forever but here is the first bit. Yes I know it's not even about Morocco but it's all part of the journey.
Saturday 31st May
After a brilliant 5 days in Spain the time had come to say goodbye to friends and family as myself, Blue and Fossy were heading South on our much talked about trip to Morocco. The saying goodbye bit was not as easy as I thought and turned out to be a very emotional moment. I knew that if I didn't set off quickly then second thoughts would start to creep in (again) but by 11.30am we were off.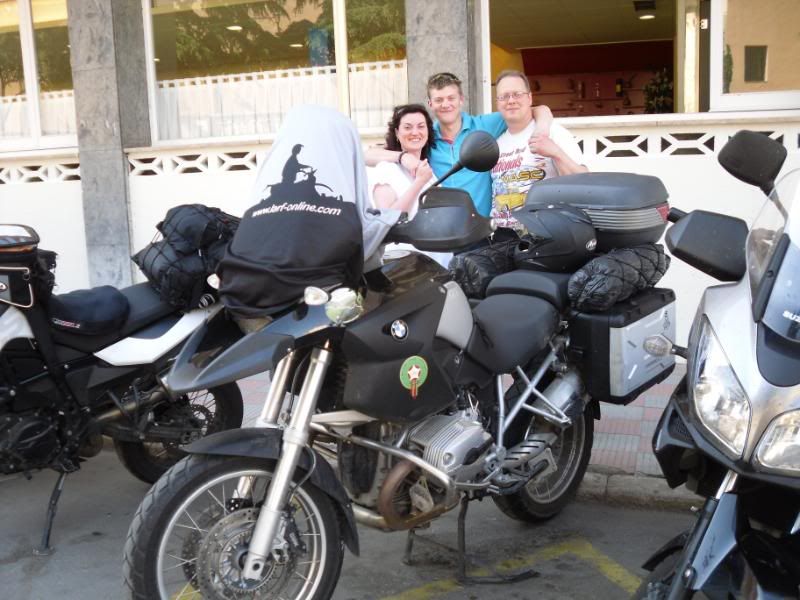 Once we had made the break I was in bike riding mode and the sat nav had drawn a route South through Spain and to Algeciras Port. This first part was really the only bit of the Adventure that had been planned, with everything after being left totally open to allow us to go with the flow.
I knew that the first couple of days would really just be a means to an end and within an hour or so the Peage was proving to be as boring as I had imagined. We had passed the Barcelona Ferry port a while ago and although we had snubbed the easy option my arse was now questioning the decision, as was my wallet as the peage machine raided it yet again. By mid afternoon we had stopped for fuel and had made a decision to take to the N roads as the motorways were just mind numbing. Within 5 minutes we were on a crackin road with fast open bends that cut its way across the plateau with mountains on either side. The plateau was about 10 miles wide with large scale agricultural buildings every few miles along the road and on the hillside were small groups of white houses, this was real Spain and in stark contrast to the Tourist 'Costas' on the other side of the mountains.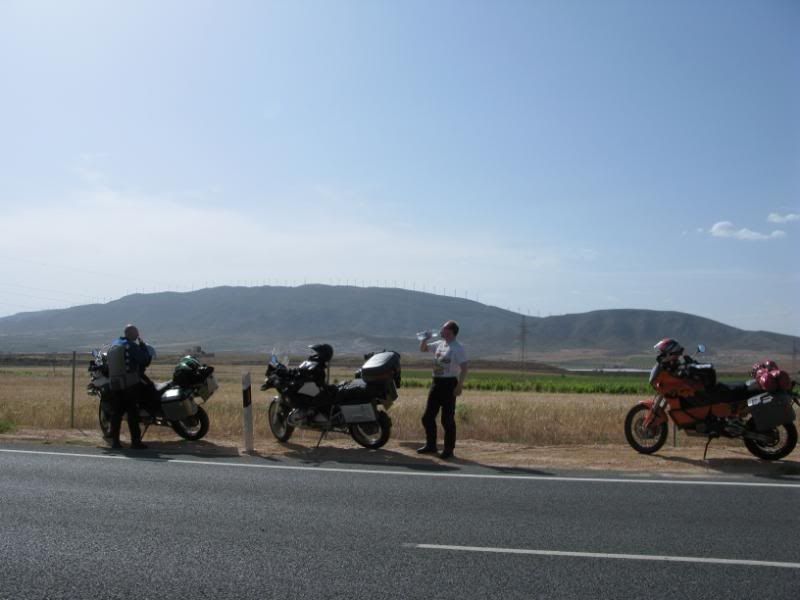 As early evening approached we could see thick black clouds hugging the mountains ahead and as we fuelled up the cool wind signalled the approaching rain, sure enough within minutes we were diving for cover and reaching for waterproofs. We could have headed for a hotel but time and distance was against us so it was head down and keep going. Thankfully the rain was fairly shortlived and a couple of hours later we were approaching Gaudix where we had planned to stop for the night. By now it was dark, we were knackered and we needed petrol AGAIN so the bright lights of the 24hr fuel station and Motel drew us in like moths to the flame. Blue went inside to ask how much for a room and the look of shock on his face told the story, 90 Euros for a triple room with no breakfast. "I ain't paying that" he said, "now it's warm and dry I will sleep under the covered area of the car park next to my bike", "and me" say's Fossy, bloody great I thought excitedly-real adventure. Don't get me wrong the safe, comfortable family stuff is nice but I've had 20 odd years of that and during this trip I was looking forward to pushing the boundaries, sleeping rough and getting into a few scrapes-this is exactly what I was here for. The man on reception was watching us as we sat on our bikes eating what remained of our petrol station bread and ham tea but while his back was turned I went over to survey the intended sleep area. Unbeknown to us the area was covered by CCTV and the man had got wind of our plan, he approached with a piece of paper with 75 Euros written on it, after 12 hours and 450 miles we were at a low point so the deal was done, initially I was a bit disappointed to give up so easily but the feeling soon went once in a comfy bed.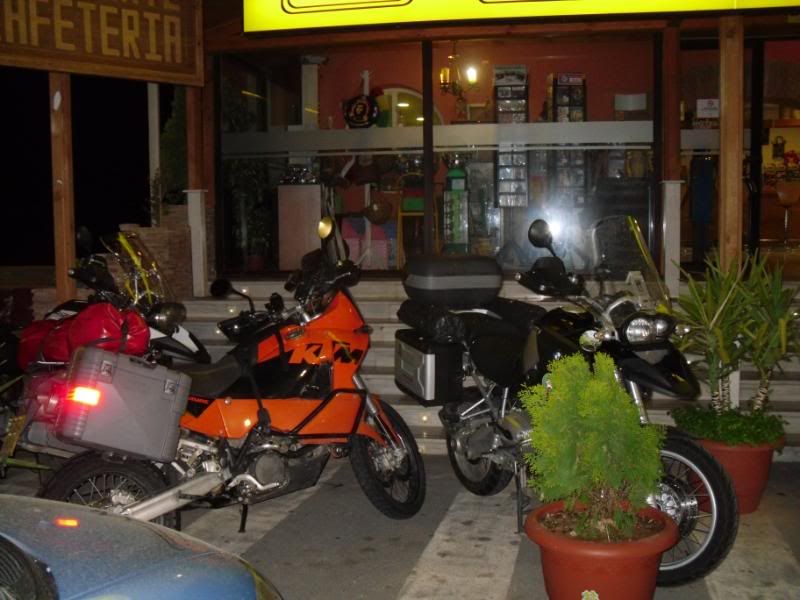 Sunday 1st June
What's that noise?, it's Fossy snoring his head off, a quick check of the watch and it's about time to get up (damn that 7 hours went quick), Christ what's that smell?, it's us and our damp riding gear-at least nobody will knick our stuff. Quick shower, smelly gear back on and load up the bikes. We'd arrived in darkness but this morning we can see the snow capped Sierra Nevada Mountains bathed in sunlight-I'm feeling tired but ready to head off on the ride down to the ferry.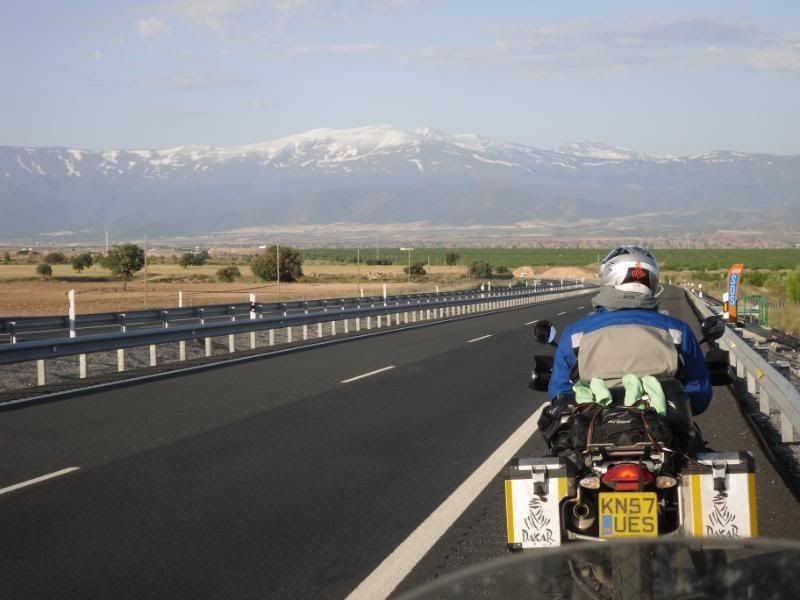 We skip breakfast, feul up the bikes and head off along the fast flowing twisty N roads. The sun is getting hot already but the breeze is fresher this morning and riding without gloves gives a chance for the cool air to get up the arms of the jacket-nice. Blue's set the sat nav and we turn off the main roads and starting heading up into the Mountains.
Somehow we take a wrong turn and ride through the centre of a small town with flags and bunting strung across the street. We turn the corner and the road comes to a dead end blocked by a bar and stage complete with drunk teenagers who are still partying from last night. Some are getting into their cars with beer bottles still in hand, this is rural Spain with no sign of Police just the local older generation shaking their heads and muttering at the disgrace of it all. A quick photo and were out of there.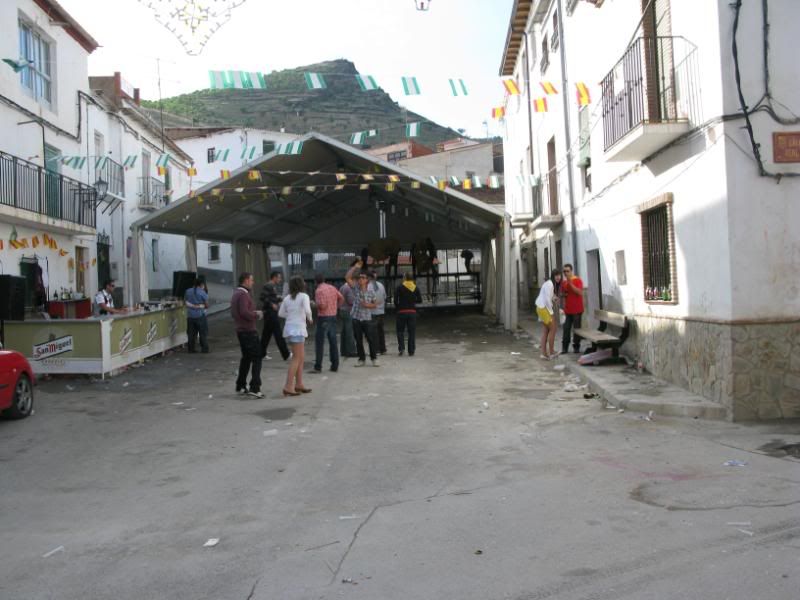 We manage to pick up the right road and head South up to the Puerto de la Ragua National Park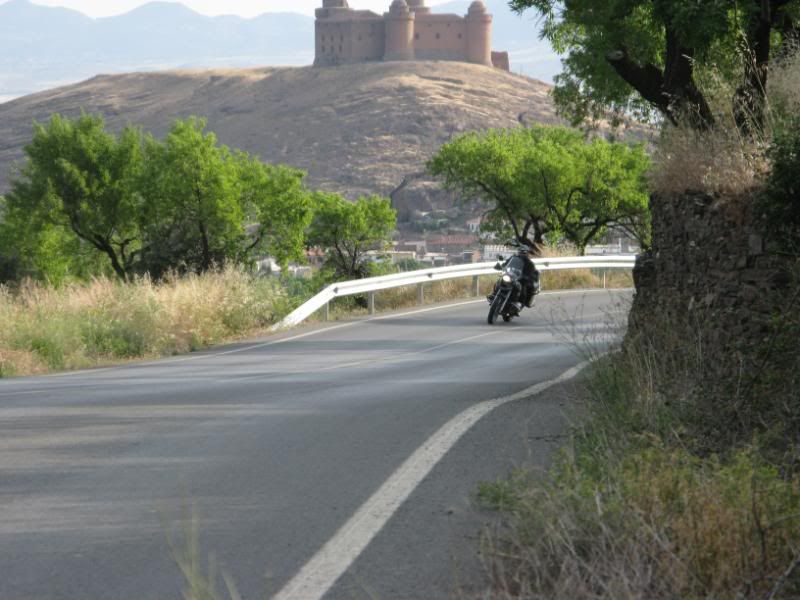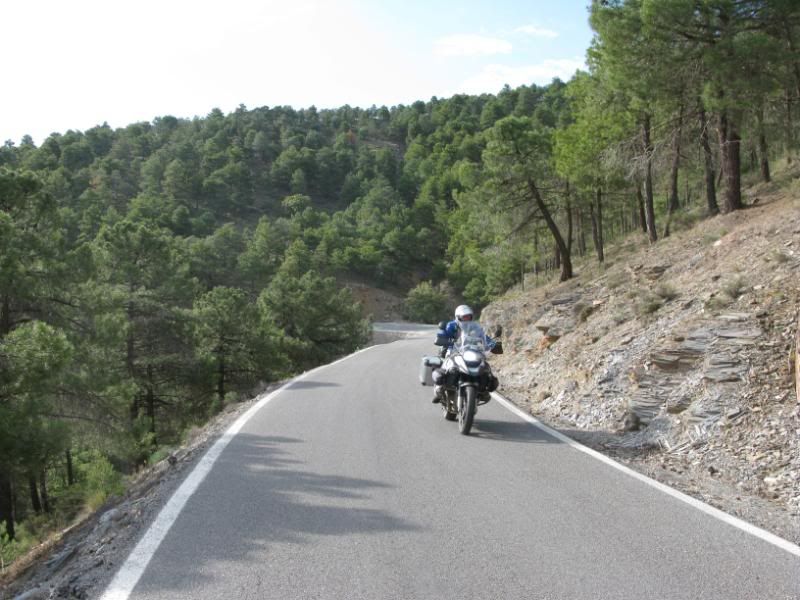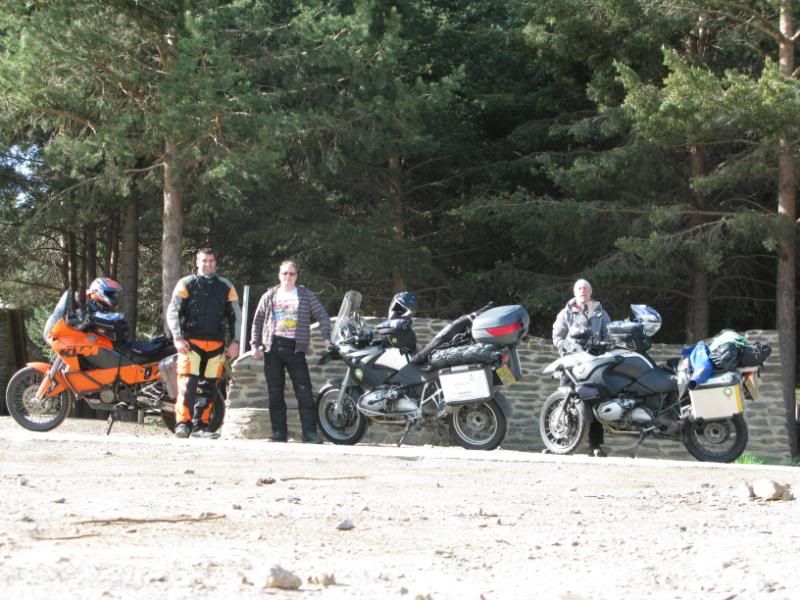 The roads are great with long flowing bends and good surface.
Trail signs show legal to ride bikes up here-shame we don't have the time.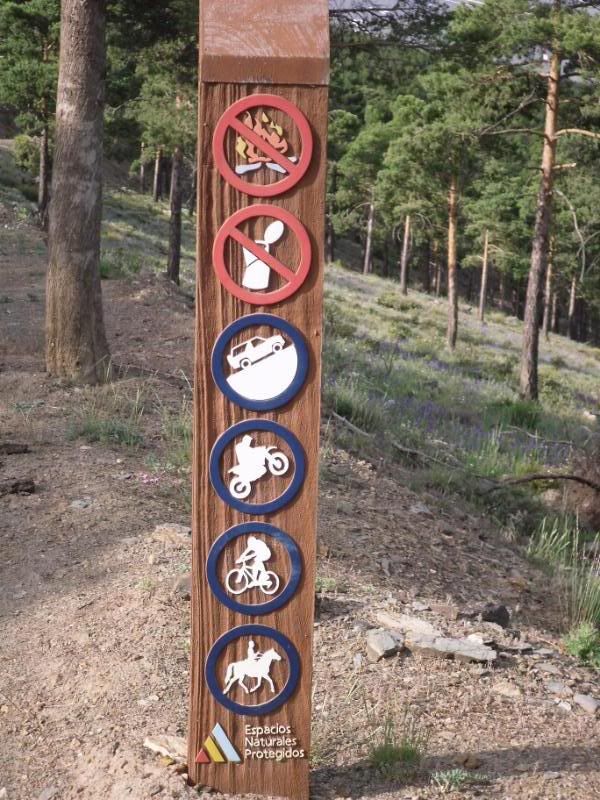 After a couple of hours we stop for a late breakfast and consult the map, it's taken us hours to cover a very short distance and we will have to push on if we are to make the ferry port tonight.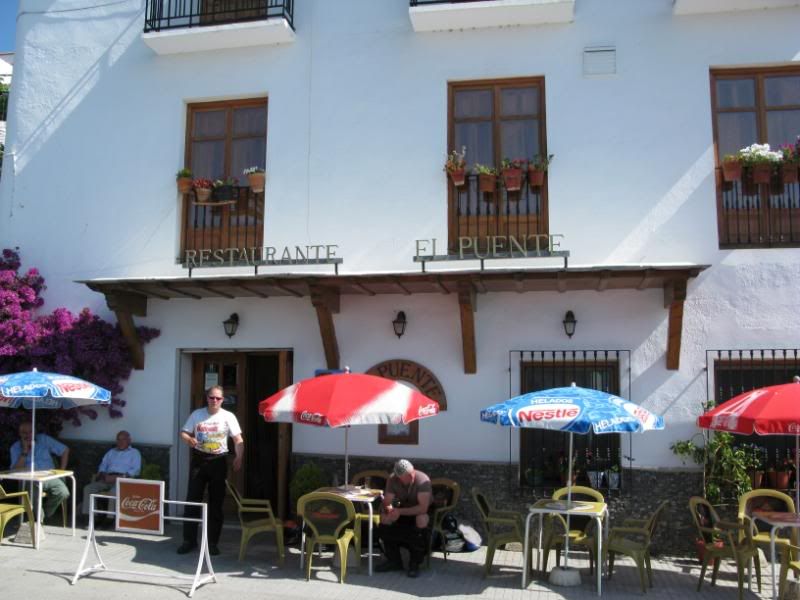 The roads are getting tighter and the bends very twisty, progress is slow.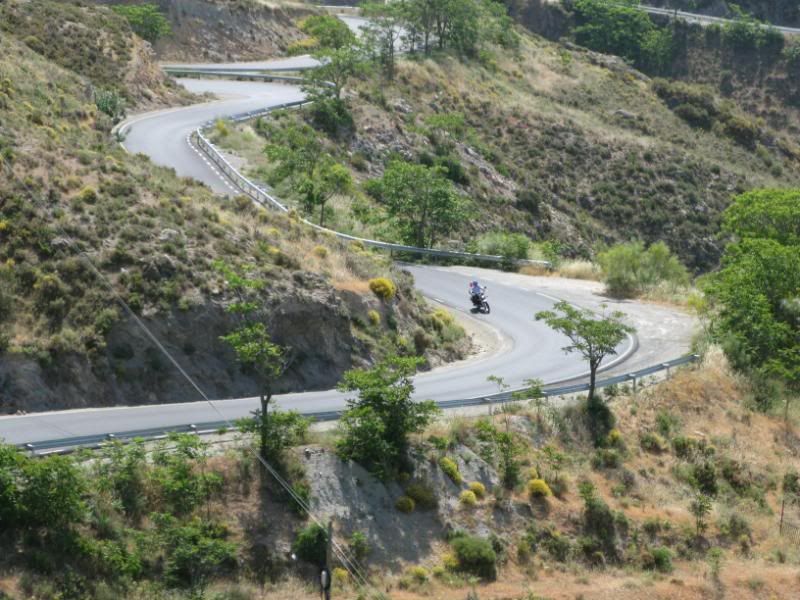 We stop for a drink of water and an Italian man in a camper walks over to ask where we are heading. He did Morocco in 2008 and starts to real off lots of names of must see places-his accent is very strong and I struggle to understand him half the time but I recognise one or two. This year he has driven from Italy into Spain and he is now on his way to pick his wife up from the airport before they head up through Portugal,Spain & France. She works while he tours around in his camper and then she flys in whenever she can-he's certainly got life sorted. Next year he has plans for Iran and 'The Stans'.
Time is now against us and as we press on we realise we have missed the turning North up to the Town of Sierra Nevada, a quick check of the map and time and we realise we can't turn back-oh well maybe another time. Sat nav set to quickest route to Rhondda and we press on. During my research for the trip I had read on the UKGSer site about the road from Rhondda to Algeciras and one poster said it was the best road he'd ever ridden-it didn't disappoint. The road is about 30 miles long and is a series of long open bends, that are mainly downhill and which can be ridden at about 70/80mph and just roll on and off the throttle-ideal GS country. It was a classic road and one I would love to ride again in the future-too busy riding for photo's.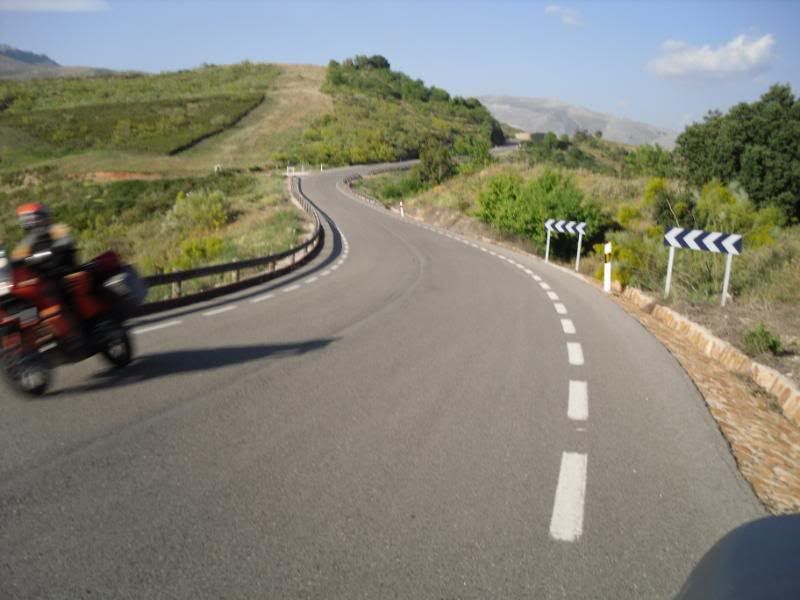 Big lads a bit too quick for me here.
We arrived at the Ferry Port at about 8pm and after consulting in Spanglish with the security guard we found the last ferry went at 10pm and we could still make it. We had a bit of a chat and decided that landing in Morocco at 11pm on a Sunday evening, with no money and no idea of where to sleep was not a good idea so we set about looking for somewhere close by to set up camp. Fossy went to ask the gaurd if we could sleep in the terminal but this was a no go so I rode along the concrete promenade in search of a good spot. There was one area that was dry and flat but it had a lot of people walking about so I rode down onto the beach edge and found what I thought was a good spot-but what do I know I've never wild camped before. After a quick chat we decided to hang around until dark and then sneak onto the area I'd found on the edge of the beach. Blue decided he was going hardcore by just lying down at the side of his bike but me and Fossy got our tents out to help keep the mozzies off. We'd soon set up and I got my head down safe in the knowledge that 'they' would get Blue first.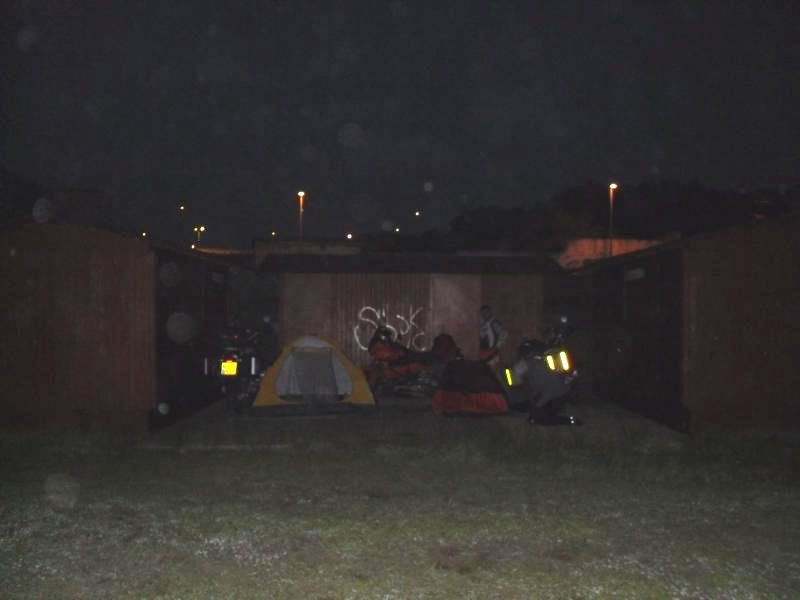 After 350 miles in 14 hours I was shattered and soon out like a light. Sometime in the night I was woken by movement but hadn't a clue what was happening and then it was gone. "did you see that Tone?" said Fossy, "did I see what?", "The old Bill just drove up the beach, checked us out with torches and then f*ckd off". Great I thought, another box ticked. It's still dark and I'm soon back to sleep.