The Challenge
To celebrate my 50th, decided to join 6 mates on a 9 day trip to Norway. The loose objective was dreamed up by Hank and Trev 3-4 years ago, wanting to ride to Narvik, inside the Arctic Circle. Narvik was the location of a number of WW2 battles, as Churchill wanted to stop Hitler getting steel out of Norway for guns, ships and U boats.
The Route
We met a few times to try to plan a route, but it was becoming clear that Narvik may be only just possible, due to the distance, the speed limited (low in Norway) and the horrendous fines (£700 for 20km over – 16mph over!!!!). Some of us (me
)were also keen to see some of the 'big country', which is the middle/west of Norway, where the best bike roads (Tony just wanted good roads
) are and some of the best scenery (Europe's largest glacier too, Jostedalsbreen) . We agreed to just get there, and then head North, via the quickest route and see how far we get, then adjust the route back according to a) our gained experience b) time available. Turned out to be the right move.
The Bike
I sold my last road bike (a Ducati 1098) 3 years ago and had no intention of buying another (happy getting my bike fix's from the dirt bikes for now). I was offered a couple of bikes to borrow (thanks Phil and Andy) but felt a rental was probably best given we are looking at 3500 miles. After looking at a few renal companies,
http://www.openroadrentals.co.uk
looked best and had the best bikes with the best deals (when you add up the costs, what I spent to rent, was entirely reasonable, considering the miles and wear and tear, international insurances, recoveries, luggage etc). I
strongly recommend these guys, if you want a bike for a few days, just to test, or for a specific trip, or a longer period, these have really good selection of bikes (they pride themselves in supplying 'as new' bikes, prepared and services to very high standards).... If you call them, ask to speak to Paul (he's the owner, rides a KTM EXC too).
I recall riding the 1098 to Spa Francorchamps for the Bikers Classic (worth the trip if you've never been) it was painful…. So the S1000RR or the HP4 Carbon were ruled out (though cheaper to rent!!!) Booked the Triumph 800 explorer initially, which soon became the 1200, then it morphed into a BMW R1200GS (complete with panniers, top box and Nav) on the day of departure.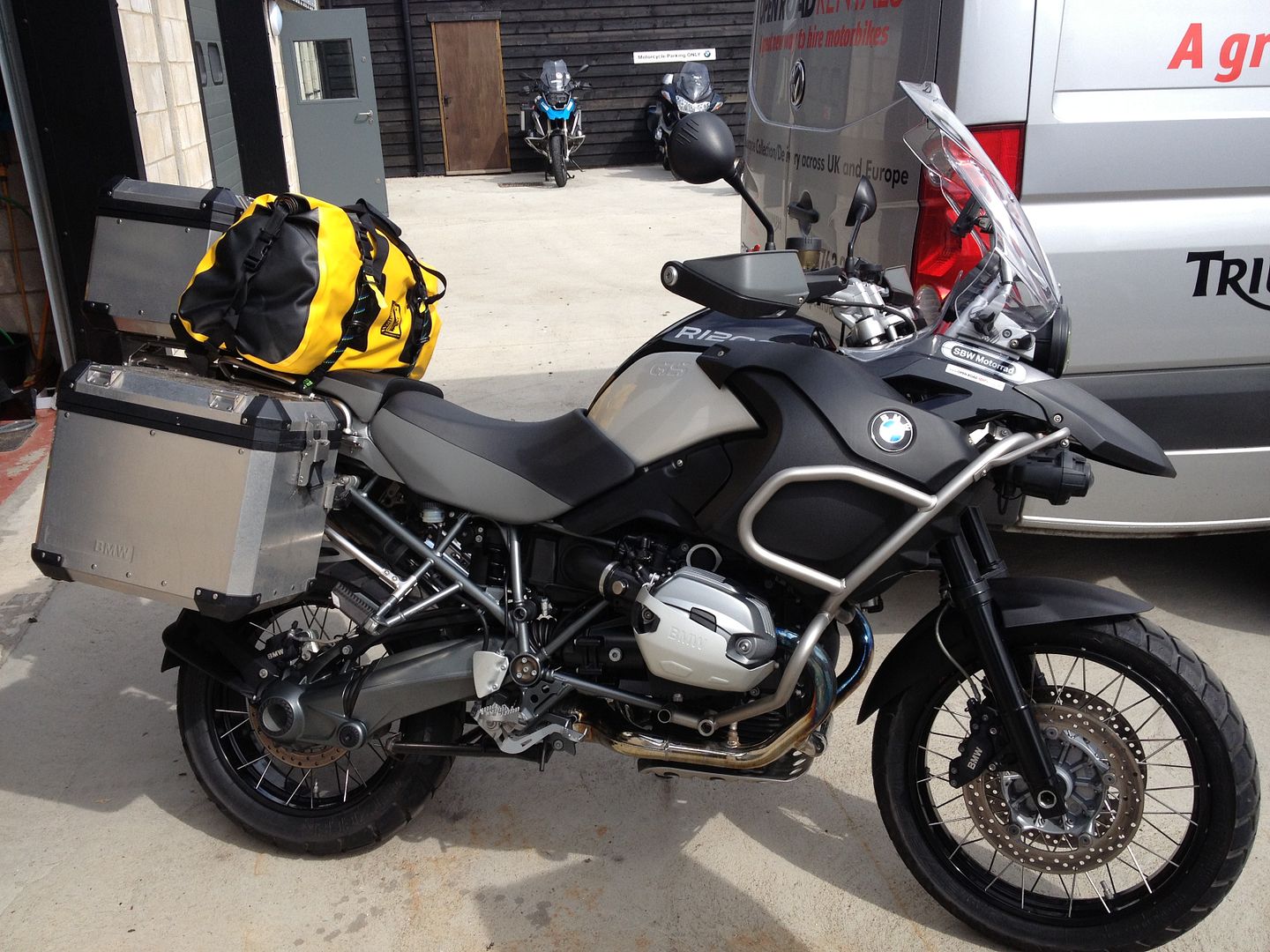 Kit and Gear.
Everyone told me to pack light, took advice and did not regret it. A pair of trousers, trainers, 6 tops did it. Leathers had shrunk in the garage (must be the cold!!!), so went hunting for some textiles…. Was not convinced by much of it, but found a deal on Rukka gear, £450 for an £1050 suit. Did not regret it, its great gear…. Never hot or cold (we were riding sometimes at 3500 feet with snow on the ground and the next moment temps of mid 20's) and it never let one drop of water in (it proper pissed it down the first day in Norway). Terra Nova super-light tent (too good for this trip), AlpKIt Dirbag mattress (highly recommended), sleeping bag, stove, pots/pans, chilli sauces , iPad, Motorcycle map (biker routes), wayfarer food pouches (it can be hard to find restaurants at times, plus everything is circa 2x (or more) the price of the UK).
Day 1 (Friday 14th June)
Whilst the other 5 were heading for Harwich for overnight 18 hour ferry to Esbjerg (Norway) , Phil and I were going 'the long way round', tunnel, France, Belgium, Holland, Germany, Denmark … That's over 900 miles in one and a half days. Looking to Rendezvous with the others at Hirtshalls for the 18:00 Ferry to Norway (Krisiansand). Phil and I were going to up against it if we were going to catch the others (Hank, Trev, Karl, Brian and Tony) in time. We decided that we must get to at least Munster by Friday evening, preferably Bremen and Hamburg would be a major bonus.
Left Royston Herts (openroads base, decided to collect, but they sometimes offer free delivery) around 10pm, for initial blast to the Tunnel. Had a booked time of 1:45 but were hoping to be on an earlier one, around 12:00. The GS felt great….. Really started to think I'd made the right choice, it rides great and it clearly is a bike for doing big miles in relative comfort. Ugly old girl though!!!!!
Stopped for fuel on the M20, well on track for the a 12:00 crossing…. Great. Had noted that my phone had been going berserk in my pocket, clearly its work…. Ignore it!!! As Phil filled his bike, he said his phone had loads of missed calls and texts too….. However, he said that's NOT usual for his phone so he checked it…. They were all for me!!!!
"Tell Chris he needs to call home"
"Need to get Chris to a hospital"
Oh bugger….. Called home, Daughter answered, "Dad you need to get to a hospital quick, its urgent…. Here, I'll pass you to Mum"…… Linda, my Wife took the phone, she was in pieces…. (BTW I'm smiling typing this…. It all turned out good)….. "You need to report to the nearest A&E as soon as you can, yesterday's blood test says you've dangerously high potassium levels in your blood, you are in grave danger of a heart attack" ….. Christ!!!!!
She went on to say that the Police had put out a request to other forces to stop two motorcyclists travelling together heading south, they had put in a 'request' into Dartford crossing to stop us (we had already gone through) and another at the tunnel terminal. I had messages from Leicestershire Police too. Linda blurted "the doctors said you could die" ….. It turns out later, that that 'inappropriate' comment came after she said she could not contact me and they said all options must be taken to stop us, the blood tests were sky high.
Anyway, I calmed her down and promised here we're go to the hospital. I guess what she said had not sunk in, or I did not believe it, as I was still concerned about getting the tunnel and saw this as am inconvenient diversion to our mission 'nearly' impossible. Fortunately the BMW Nav was intuitive and POI's showed that there was an A&E (Maidstone) 6 miles from us…. Off we went!
Later, Phil said…. As I followed you, I was thinking…. 'Wonder how Chris is feeling, being told he could pop any moment. I said…. Actually I was thinking….. I feel fine, but it could be the adrenaline of the ride…. Do I really feel OK…… Yep, I do!!!! Then as we joined the M20 again, I recall thinking, 'now, if I start to feel funny, head left towards the soft grass verges, not right towards the trucks and cars'.
Got to A&E, parked up (later we were told we'd parked the bikes by the A&E ward exit doors – ooops). Checked in and they got us through triage quickly, took two blood tests, one went in the A&E 'quick test' machine, there other went to the lab with a priority 1 hour turn around. Had full medical from a Doctor.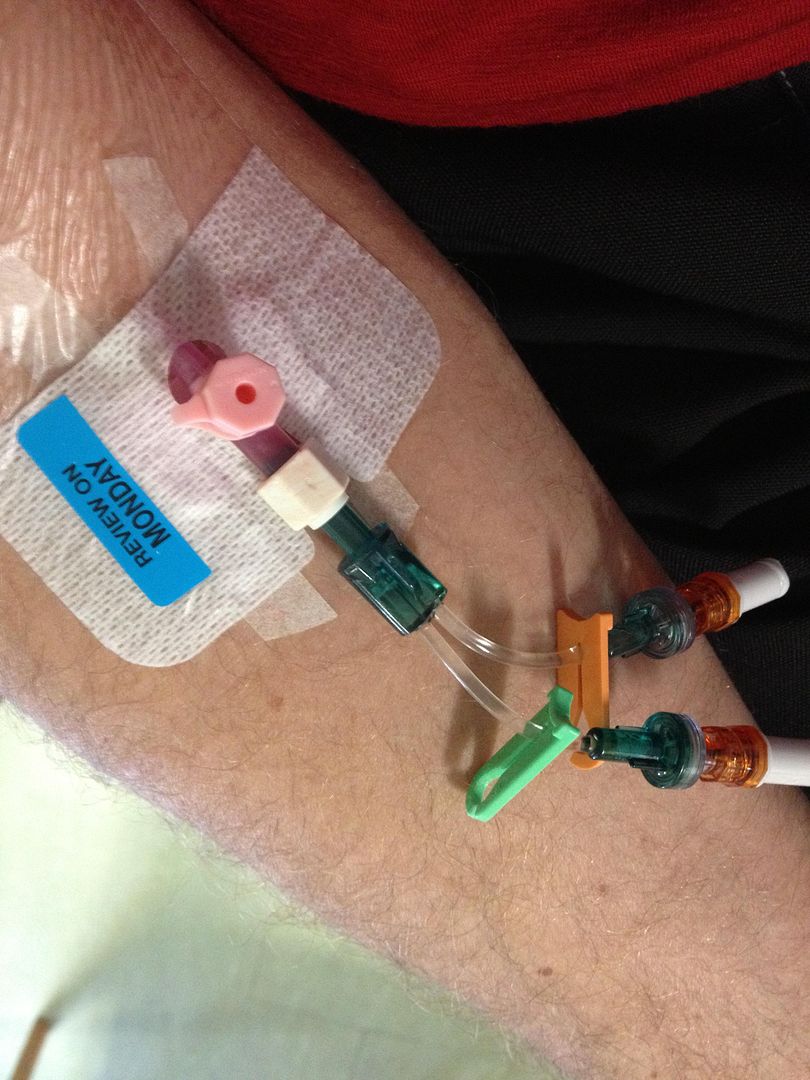 First blood results back, bang-on where they should be, perfect. Hour later other results… same!!! They decided (as potassium THAT high is a big issue) to get a second opinion from another Doctor…. He was OK too. They said that it was most likely contamination. You can imagine, by this time we'd befriended the staff, they knew what we were up to, the police thing etc and they wished us well.
Phil had re—booked the tunnel for 4pm ….. blast to terminal!!!!
As we relaxed on the Tunnel, we had a right old giggle about the events...... "poor old chap who's got YOUR blood result..... "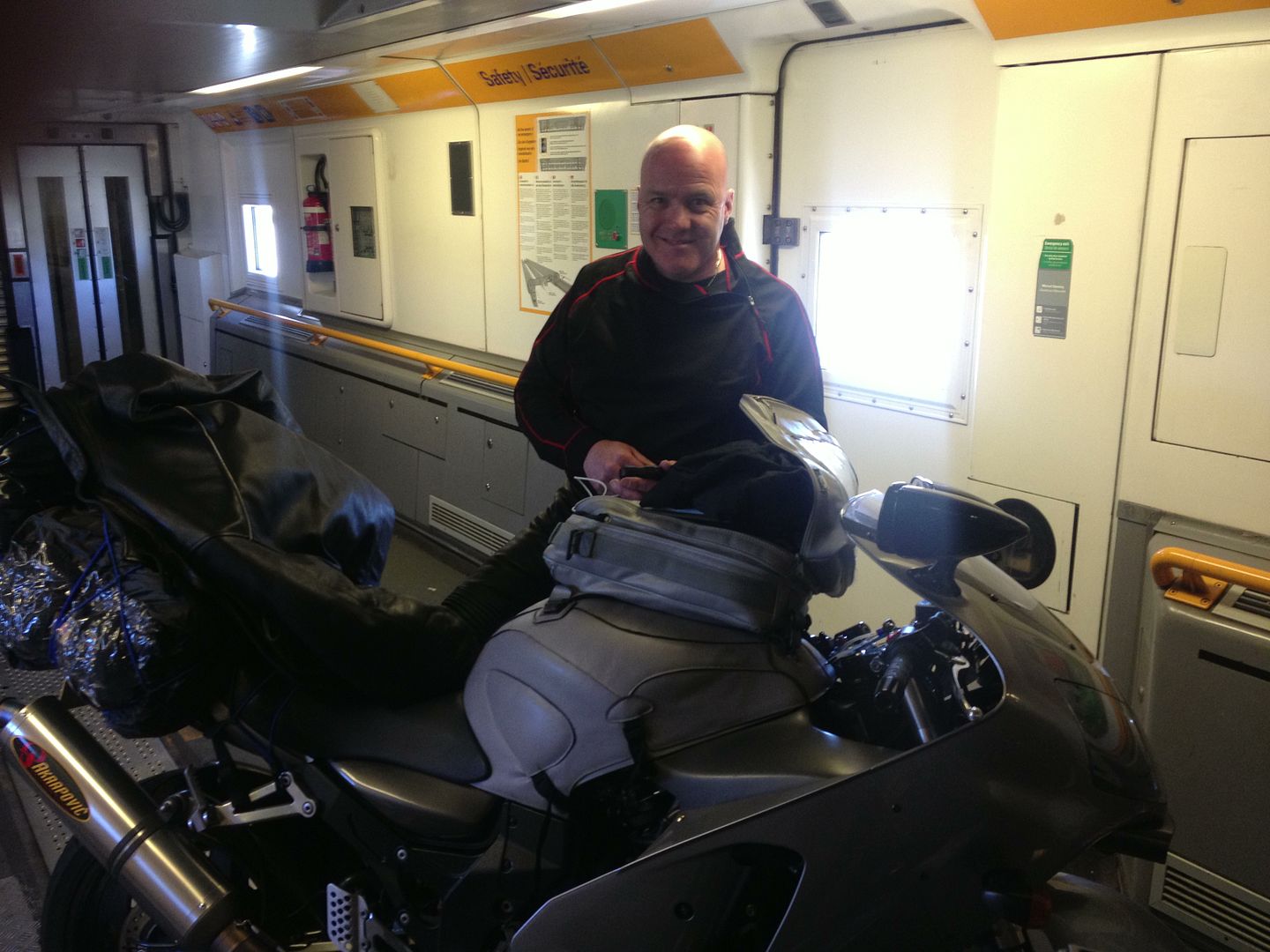 There were some other bikers, who were riding to the German dams via the routes the 'Dam Busters' took, 70 years ago.
France was dispatched quicky and we met a biker gang in Holland at for first fuel stop.... There were about 100 or so of them.... Weird looking bunch!!!
Next fuel was in Germany..... A nice german couple made comment about my helmet design......
They could not speak much English and we can't speak German, but Phil seemed to pick up references to the war, the dams and the British air force....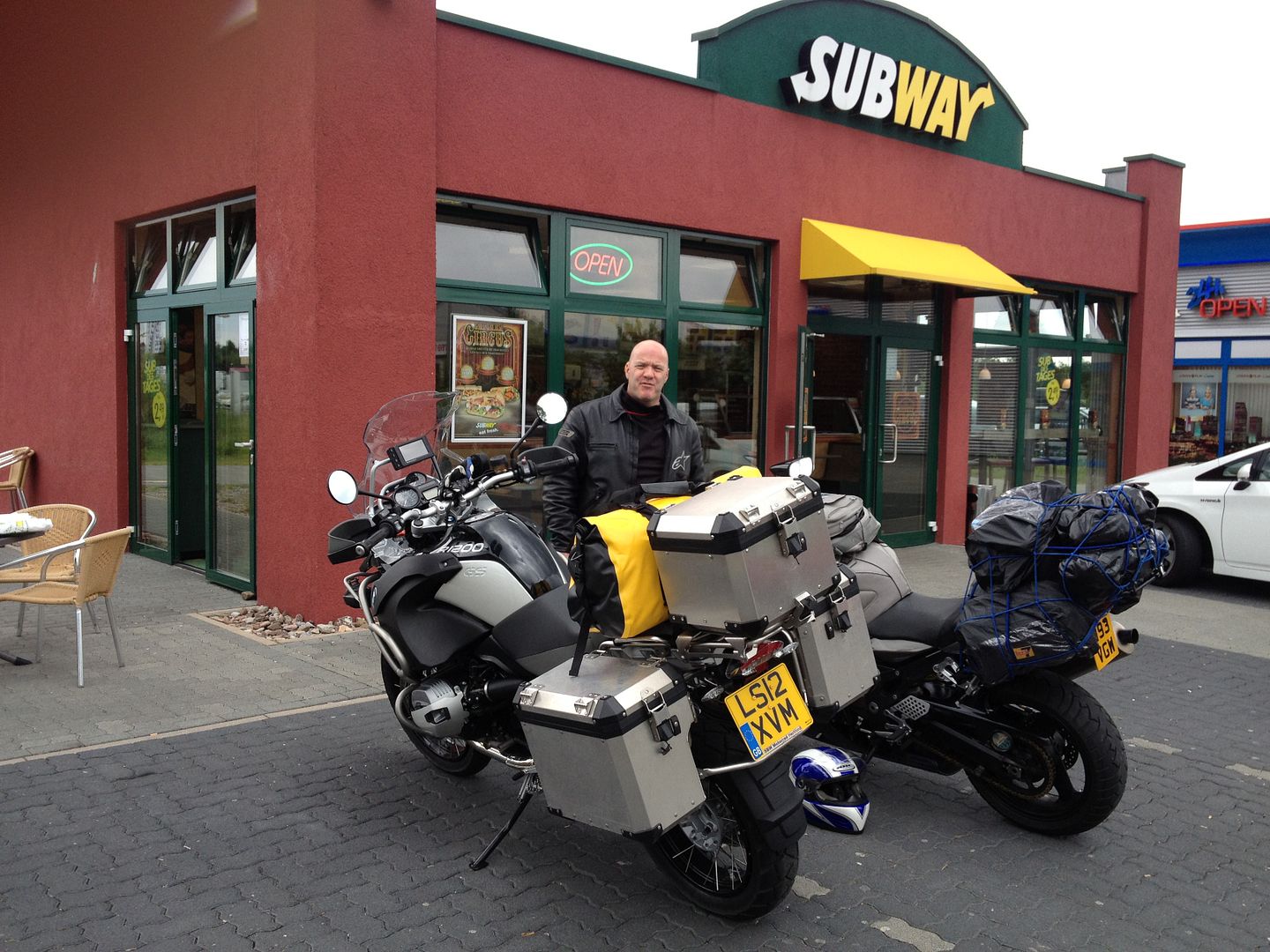 Cracked on into Germany..... we called it a day at Munster, our minimum MUST DO distance.... at about 11pm. We were lucky to find a decent Hotel by the main (route 43) road .... Good price too!!!! About €70 for both of us with Breakfast
Hotel montana münster senden
We both sleep well..... and I was particulary pleased to still be alive