Sunday 13th didnt start too well.
We were kitted up, bike packed and just about to lock the door behind us when it started to rain.
We were due down in Plymouth around 1:30pm for the 24hr ferry to Santander so the leisurely day long ride we enjoyed for the LARF Brittany trip last year was a non starter.
Myself and Julie had decided to wear Biker jeans as we were expecting it to be warm and would take oversuits "just in case", rather than wearing our waterproof but warmer textile trousers. We hadn't even got out of the door and the decision was made to put the over-suits on.
Me and Julie, on the Kwak SX, met up at Warwick with Richard and Christine on the 1050 Tiger who came with us on last years LARF Brittany trip.
Turns out it was a good decision to wear the wet weather gear as it poured until we got onto the M5 at Tewkesbury.
We stopped to de-suit at a service station around Bridgewater and got to the ferry port on time. And I mean on time as a whole crowd of Harleys and similar looking bikes pulled in a minute behind us. Lots of leather vests and patches.
As we went through the customs shed the officials were stopping and searching another bunch of unhappy looking Harley Riders. Customs took one look at us and waved us straight through. We weren't sure whether to be pleased or annoyed. It turns out the Faro MC club Festival was due to start on Thursday in southern Portugal and the Harleys were all heading south.
Monday 14th started bright and clear with the Bay of Biscay smooth and calm and the crossing un-eventful
After disembarking around half 3 we had around a 220 mile ride to our first hotel in a walled medieval town called Sos Del Ray De Catalico. It was one of those towns that can be seen from miles away on a hill top in the middle of a rather hot and arrid looking landscape.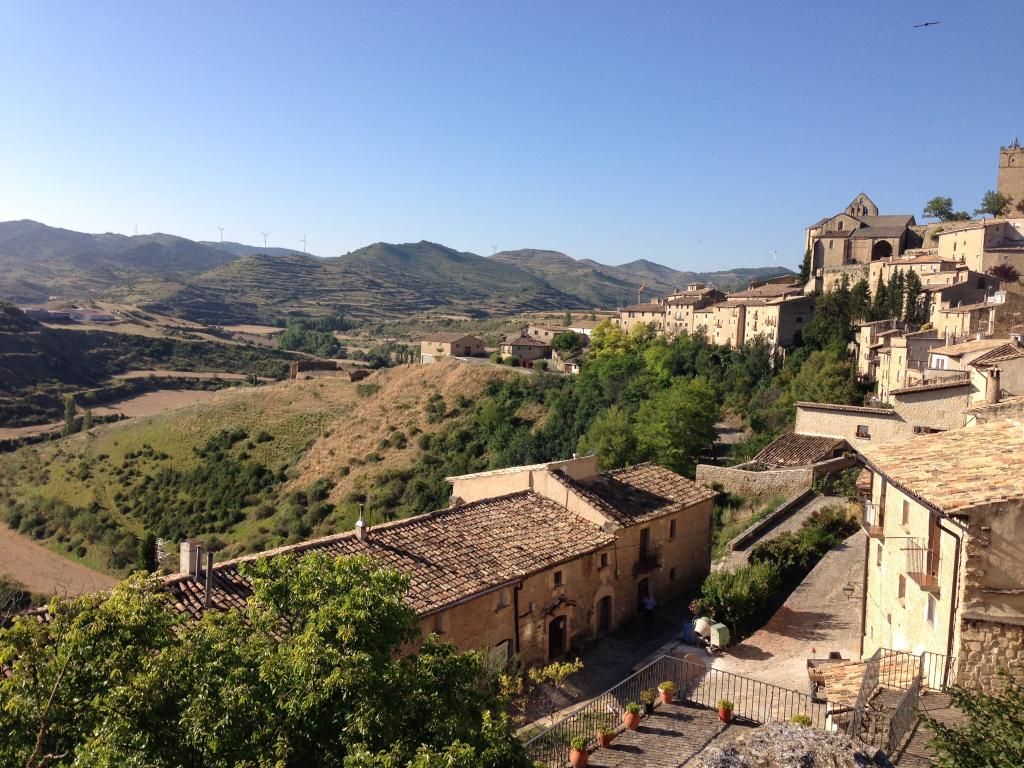 We arrived around half 7 and after a quick shower found that the town was pretty much deserted apart from a couple of local hostelries.
Tuesday 15th and after breakfast we mooched around town. Although a lovely place it was very quiet. Our next hotel was on the Spanish side of the mountains in a town called Bielsa which was close to the French border.
We decided to take the longer winding local roads rather than the easier way round on the main roads. It was a great road for 15 mins then the smooth stuff ended and we were riding on loose shale and pot holes which were trying to shake the fillings from our teeth. This went on for about 20mins then we were back on a brand new smooth as a billiard table road with long sweeping bends. Spain may be skint but they build a lovely road.
We arrived at our hotel and decided to eat there. After dinner we retired to the bar where a quite enthusiastic (drunken) few games of pool ensued and I think the barman was quite pleased to see the back of us when we went to bed.
Wednesday 16th we were all a bit excited about a day heading up into the French mountains so was up and away by 10ish. The roads were absolutely stunning and Mr Garmin took us from valley to mountain to valley to mountain.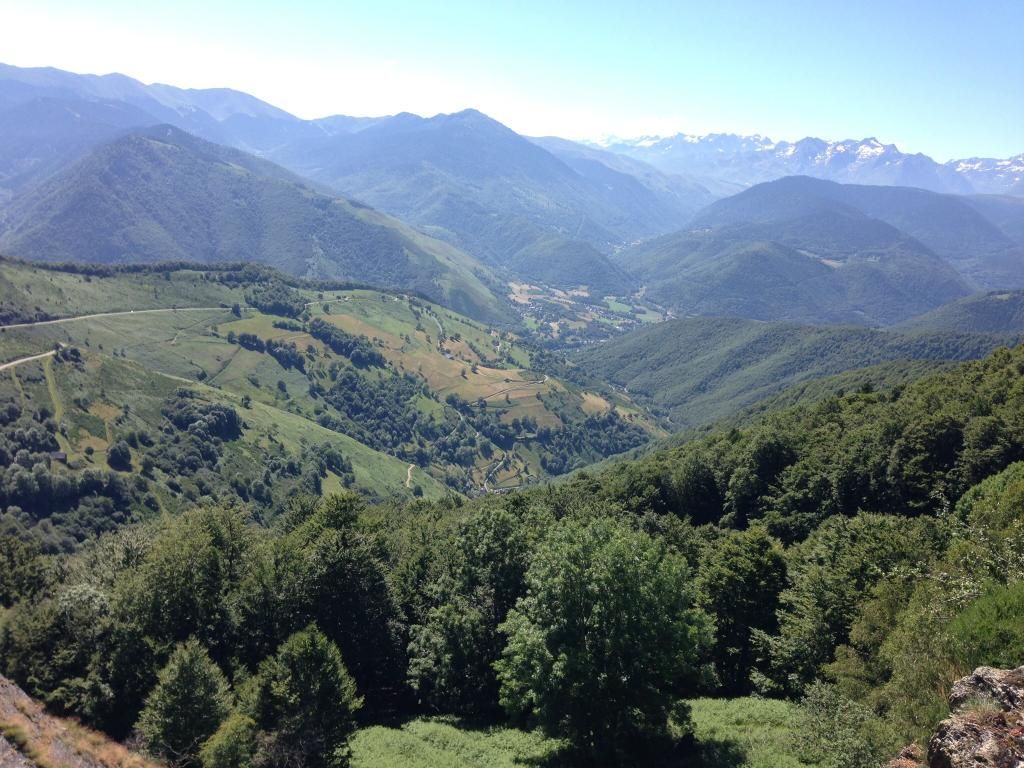 The scenery and roads were that good that myself and Julie ran out of memory on the Go Pro and the digital camera. We encountered sheep, cows, donkeys and more than a few cyclists, (mad fools) on the roads. It was one of those days when you just don't want it to end. All under a perfect blue sky and warm sunshine. It all seemed to go too quick.
We were booked into a hotel in a town called Gavarnie. The town is in a sort of cul de sac, and at the end of the cul de sac is a huge horse shoe shaped cliff with the highest waterfall in Europe. It was just awsome. We spent the evening walking along the track up to the waterfall and got back just as it got dark.
Thursday 17th Breakfast was croissants, fruit and coffee sat on a bench just looking at the scenery. It was another day on the French side where we just did not want to stop. The roads and scenery just kept on coming and there was hardly a grumble from the girls. Mind you on some of the roads I get the feeling that they didn't want to distract us.
We stopped for a lunch stop at a mountain top cafe and on the hill alongside was a bunch of twitchers set up with telescopes and binoculars. Julie, who had been shouting in the intercom every time she saw a kite or a buzzard, took her bino's along to see what they were looking at. On the next hillside was the corpse of a dead cow which had been stripped of meat by a load of vultures. There was still skin over the bones and the vultures could be seen tugging at. It was like a scene from a David Attenborough African documentary.
As the afternoon wore on we crossed back over to Spain and headed back to the hotel in Sos Del Ray where we had stayed on Monday. As we pulled into the town the parking spaces outside the hotel were occupied by half a dozen other bikes from Ireland.
We felt we had cheated by catching the ferry down to Santander but these lads had gone even further by having their bikes delivered by a haulage company. At €600 each it worked out cheaper than taking the ferry to mainland UK riding to the south coast and then catching a second ferry to Europe.
Friday 18th saw us heading back to the northern coast of Spain. We had booked a hotel at Laredo which was a fairly busy but pleasant seaside town which had a fantastic beach. Trouble was that as we headed back west it became distinctly more cloudy and cooler. We had to be content with a paddle rather than a swim.
Saturday 19th was the day we had not been looking forward to. Back to the ferry.....
We had pretty much all day to kill so wandered back into town. Again it was fairly cloudy and cool but the place was packed for some sort of festival with lots of folk making the effort to dress up in 60's and 70's gear. There was a street market and music coming from speakers which seemed to be strapped to every lampost. And the biggest BBQ I think I have ever seen.
People were dressed as hippies and there was a whole family of Elvis's.
Behind the town was a mountain which we think was a part of the Pecos range which we were told had some great roads. As we had a couple of hours to kill we thought why not. So off we set. Unfortunately as we climbed higher we could see the low cloud and rain which unless we turned round we would not avoid. So on we went up and over the top where the road was lined with poles to show the snow depth in the winter. It was a real pity that the weather was so poor as the road was fantastic. Never more than a 100yrd straight before the next hairpin or longer curve. Back down the other side and then back to Santander for 6:30 and the ferry home.
Sunday 20th was a typical day on board a ferry. Not much happening and not much to do till we got off the boat around 8.00. The blast back up from Portsmouth was pretty uneventful and quiet. We were home for 11 not wanting to think of the alarm clock due to sound at 6 the next morning heralding our return to the real world.